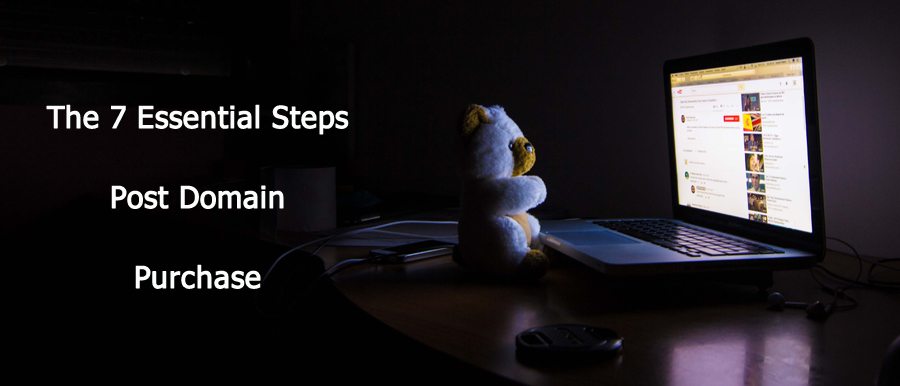 Updated on May 14, 2020 08:53 pm

Congratulations for buying a domain. No sooner that you complete this first step, there are myriad questions hovering in mind about the road ahead. Here we present to you some relevant information about the most probable doubts that can hound you post domain purchase.
1. Planning the web hosting:
Do you need to buy the domain and web hosting from the same company?
Well, the answer is no. You need not do so; rather it is always better to avail these from different providers so that you get added security and do not face hassles in case you decide to move to some other web hosting service provider. Your domain requires being in sync with the web hosting space. If you are availing both of these facets from the same company, you need not bother about the sync. But if you are availing both of these from different companies, then you have got to sync them first. Once your website is hosted on a temporary path, the domain needs to be pointed to web hosting. For the purpose, performing the following steps and changing the DNS records of the domain with the help:
You shall be receiving Web Hosting Name servers from your current hosting provider via e-mail.
Login to domain registrar's panel
Edit the domain name servers and save it
Web hosting services comes in various genres namely - shared hosting, VPS hosting, dedicated hosting and cloud hosting. If your company is a start-up, it is always better to go for shared hosting initially. Few companies also offer free hosting facilities for users. Following companies that give free hosting facilities.
There are few companies that offer money back guarantee too; for instances wherein you have purchased their services but they being not up to your expectations, you can ask for a refund. Some of such companies are:
2. Developing your website:
After you have availed the domain name and web hosting facilities, next in line is the development of your website. The most popular names in content management system are:
WordPress being one of the most popular and easy to use option in open source scripts that also help you to add and edit content on your website very easily. If your company is e-commerce based, the best open source companies to help you out will be:
Alternatively, you can buy affordably priced themes and scripts too. There are innumerable number of scripts at codecanyon.net and themes at themeforest.net
3. Adding graphics:
Relevant and impressive graphics and videos leverage the look of your website multiple times. In fact, these can hook the readers even in the shortest attention spans. Do not overload your website with words; incorporate pictures, graphics and videos seamlessly so that the content makes a lasting impact on the readers. There are several sites that offer high quality yet very affordable pictures and graphics. Some of such sites are:
4. Social media presence:
Whether for companies or individuals, social media is an absolute must if they want to reach out to people. Social media presence is extremely important for every company. It is important that you register on the social media platforms with the domain name as soon as possible. Different domain name and social media names may not make a connect for the customers.
5. Market your website well:
All your efforts of creating a highly notable website will come to a naught if you do not market it well. The endeavor of creating any website is to make the company popular and to grab maximum eyeballs. There are several tools for marketing a website; SEO being one of the most important ones. Other than this, as mentioned previously, presence on social media platforms go long way in making more and more people know about the website. Other modes include several online well as offline tools, PPC and CPA methods, affiliates and lead buying.
6. Adding Content:
Content is no doubt, the king of your website. Make sure you add meaningful and impressive content. Do not go berserk in filling the pages with words. Content should always be crisp, with the ability of conveying messages effectively. As a thumb rule, the following pages are must-haves in every website.
About Us
Services Page/Product Catalogue
Privacy Policy
Terms of Services
Contact Us
Make sure you do not forget to add on these pages in your website, though you could be adding one or more pages of your choice. Adding a blog section always helps in diverting traffic to your website from Google.
7. Including Email Opt-in:
Email opt-in refers to the permission that the website receives from the visitors to send mailers to them. There cannot be a better way to stay connected with the visitors and make them visit the website again and again. Whether for sending advertisements, newsletters or links of blogs, this is the best way to reach out to people and let them know about the latest on the website. Therefore, no sooner than your website kickstarts, you should start building up the mailing list.