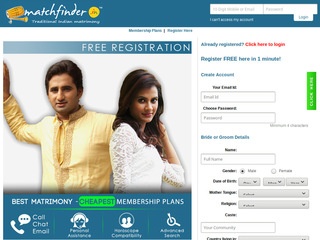 Matchfinder is a premier online matrimony site in India. Eligible men and women above 18 years of age can submit their biodata, upload a photo to complete profile registration. Once the registration is complete, users can search for their match from hundreds of profiles within their caste or preferred castes. Search results can be narrowed down further to find a matching profile and users can go for a paid membership plan. Interested users can pay a nominal fee of Rs.100 to contact any single bride or groom profile. Registration and contacting the prospective brides and grooms is that simple on Matchfinder.
Matchfinder provides matchmaking services for all the castes in different states of India. Personal assistance services can be available for Telugu communities like Kamma, Kapu, Reddy, Arya Vysya, Velama, Goud, Madiga, Mala, etc in Andhra Pradesh and Telangana states. Matchfinder has a corporate office in Hyderabad, Telangana. Friendly customer care and affordable membership plans are some advantages of registering on Matchfinder matrimony. Match Finder is the only matchmaking site that provides both chatting and phone no contact options for very affordable prices.
Seeking brides and grooms in your community? Sign up today to find your life partner today!
More Links
Social media
Business address
Matchfinder Online Services Private Limited
Flat no 101, H No 5-679, 5-682, Gokul Plots, Venkataramana Colony
500085
Hyderabad
India
IN
Websites from People